What to do?  So many good choices, so many ways this can go.  Will your bracket survive past your colleagues and friends or will you have to hear them go on and on how they  pity you or just tell you that you suck.  When the conversation at the next conference turns to NephMadness you don't want to be the person saying, "Hey I have an early day got to go back to my room".  Heck this madness is so crazy popular people have literally been kidnapped to prevent entry into the tournament!  
You think to yourself how do I get an edge on the competition.  You google best bets NCAA tournament, there are over 2 million hits.  Oh you meant google best bets NephMadness, first think that shows up is NephMadness for Dummies.  You almost throw your phone/tablet/computer against the wall to show it whose the boss, but wait you remember you will have to buy a new device and who knows if that device will be any smarter.
Then you head to twitter and you see salvation!  You come upon the NephMadness Choose Wisely Campaign #NCWC?  How did this happen? What is this?  Well you see Nephrology Social Media Collaborative (NSMC) Intern Mohamed Elrggal was in a deep sleep when the Knight of NephMadness Past came to him.  He immediately awoke and googled the below image as he needed to know who this Salt Whisperer was.
Mohamed thought to himself what does this mean? Suddenly an idea came upon him, what if he led a team to retrospectively analyze the history of the Blue Ribbon Panel, from publications to tweets to choice of coffee and input this data into a simulation model.  He could run the simulation a few thousand times and then be able to accurately predict the winning Teams in NephMadness.  He immediately communicated this idea to his Nephrology Social Media Collaborative (NSMC) co-interns and the team was assembled.  Mohamed's brainchild became knowns as the Nephrology Choose Wisely Campaign#NCWC.
The first entry was done by the man Mohamed himself.  This was followed in rapid succession by more entries and to totally annihilate the competition check out the wonderful Visual Abstracts!
Below are a list of hyperlinks, first link is to that region's NCWC entry and then below is the hyperlink to that #specific region (click #NCWC for the whole collection in one spot):
Strong work by @ssfarouk on putting together the infographic summarizing the twitter polls below: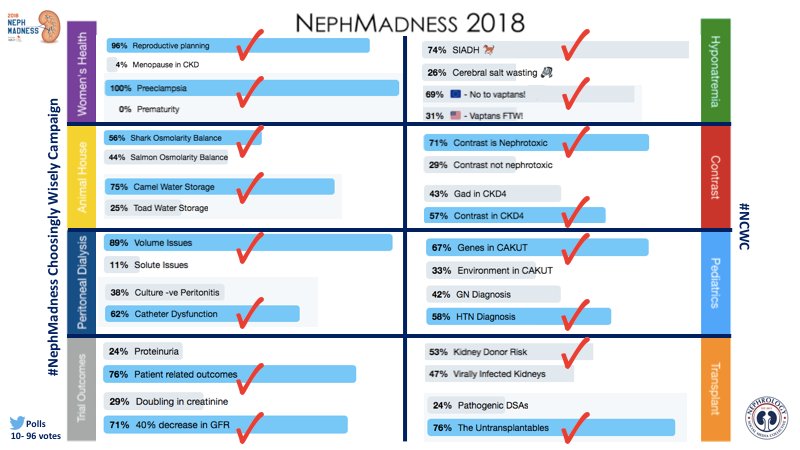 So now you start to feel like you might just win and start to plan a Championship Parade but WAIT WAIT WAIT!  Simply winning is not enough, you feel the need to embarrass your colleagues and walk around like a Boss at the office, to show those other fellowships "Yea we're bad, What! What!". Well to honor the idea of FOAMed (Free Open Access Medical education) and to keep your head spinning with content we rolled out the good stuff:
Still don't know whom to pick, well if all else fails here are some free picks for you. Want free picks in Spanish, no te preocupes we got you covered.
Asking where can I look to find everything mentioned in this blogpost and more coverage of NephMadness click below:
Shout out to all the contributors to this year's NephMadness and all the wonderful posts and innovative educational tools used.  A special thanks to our NSMC faculty and the NSMC interns!
And let's wrap this up with aShooting Starr Moment!
Now let's win this thing and go cut down some nets!
#nephmadness #nephforward #NSMC